Home
Rick is now riding a 2022 FC450. Too Tech has been Fine Tuning KTM suspension for 20 years but never owned one till 2021. Having the latest frame and fork design allows daily assessment of WP Suspension Settings combined with KTM style frames. Having the latest frame and fork design allows daily assessment of Suspension Setting at local So Cal tracks.
So far the handling is very close to the 2021 Honda CRF 450R with what seems to be a more compliant frame.
Too Tech is proud to have first hand experience with the best selling Manufacturers of MX bikes.
2019 KX 450 Kawasaki
Owned 2 different bikes. Fine tuned the Suspension for even better square edge absorption, re-tuned the ECU for smoother initial power delivery AND more top end Horsepower. Experimented with Tripple clamp offsets, engine mounts and wheel base changes.After 3 years of testing we confidently set up KX 450's for any caliber of rider.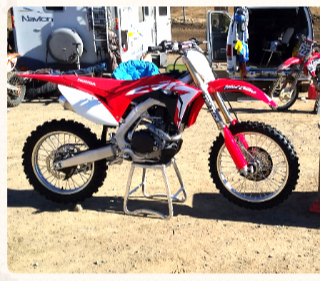 2017 CRF 450R Honda (2004-2021)
(Latest Honda after 15 years of Honda CRF 450R's. Gained complete knowledge of Early 47mm Showa, 48mm KYB Air, and 49mm Showa Forks,Shocks and ECU modifications.

Will Harper has joined the Too Tech Team ! We are glad to have him !!
Will is a 'staple' at our Local Glen Helen REM and MAIN Track
His was the first 2020 1/2 Rockstar Edition we had a chance to work with. This model has the improved AER Fork, now called the WP Xact Fork. WP improved the Mid Speed Fork damping design and incorporated a more progressive Air Side characteristic. Will insists that we made major improvements to this overall Suspension. When we tested it we were both convinced that it tracks and turns better than any air fork we've ridden, AND completely forgot it was an air fork while on the track.
See my 2020 1/2 KTM suspension review for details on this new Fork.
WE DO SUSPENSION
We pride ourselves on fast turn around. Work is always completed in under 1 week.
Local customers can schedule an appointment and we do the work while you wait.
"REVALVING" Tune your bike for your terrain!
"LOWERING" For shorter riders & more confidence.
"ECU PROGRAMMING" Minimize initial hit, more top end H.P.
"OIL SEALS & SERVICE" Fix leaks, schedule regular maintance
"SPRINGS" Huge selection in stock for quick turn-around
"PERFORMANCE PARTS" Bottoming system, air bleeders, etc
"BIKE DISASSEMBLY" We can disassemble your bike on site
"STEERING STABILIZER VALVING" Stock Honda damper
Honda, Yamaha, Kawasaki, Suzuki, KTM , HUSKY
HOW 'NOT' TO LOWER YOUR SUSPENSION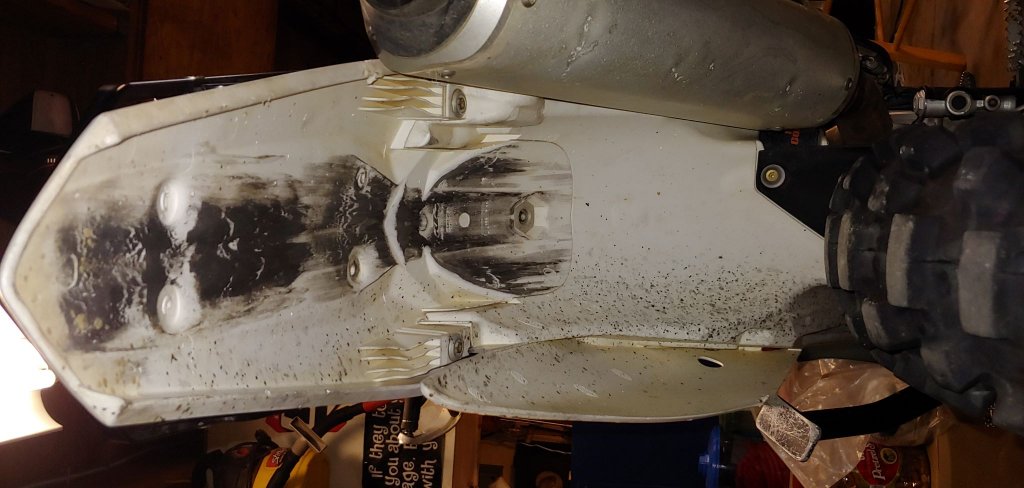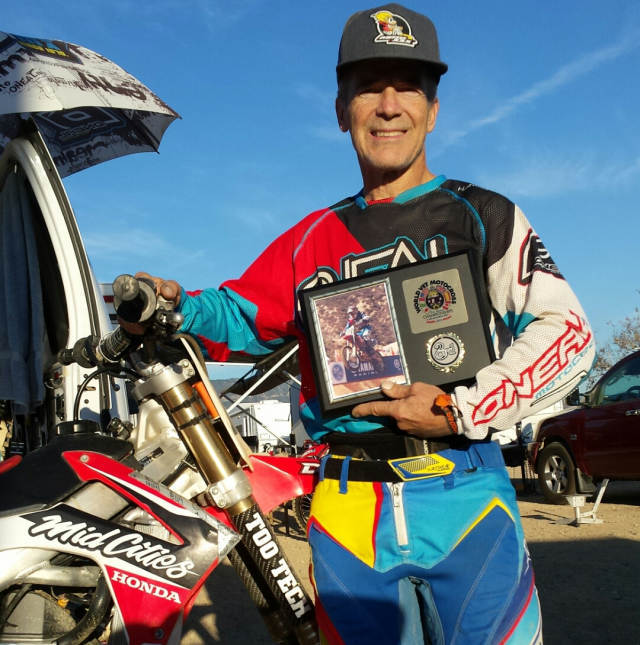 RECENT TRACKSIDE PICTURES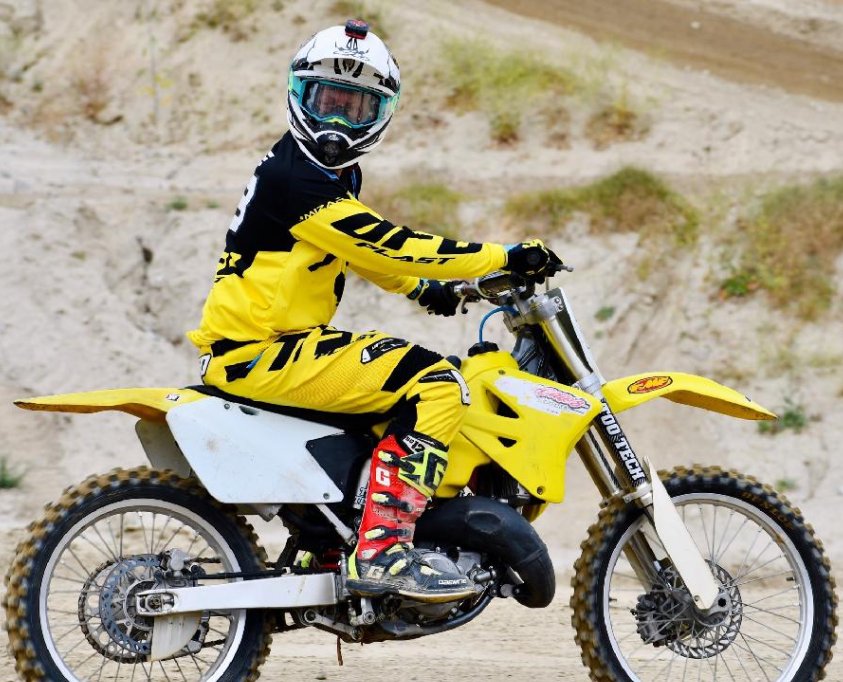 Dane is Too Tech's "Shock Guy" and "Mechanic". He loves 2 Strokes and has lots of them ! This is his 2002 RM 125.
(We get to keep our 2 stroke suspension settings updated while tuning his 125's, 250's, and even 500cc bikes..........
The history of www.tootechracing.com , owner Rick Johnson
' Too Tech Racing ' also known as ' Too Tech Suspension ' and just ' Too Tech '
Too Tech Racing was started as a back yard side business by Rick Johnson in 1982. Rick graduated General Motors Institute in 1977 and worked as a Tooling Engineer at GM in Framingham Mass until 1979 when he moved to Venice California. He settled in Torrance Ca. and worked in a variety of Engineering jobs including Production, Manufacturing, Automation, Test, Mechanical & Electrical Product Design, Lab Development, Vehicle Evaluation, Field Quality, Dealer Support, New Vehicle Release Manager, and his favorite NVH (Suspension & Chassis) Improvement Engineer for Nissan. But the one thing that remained constant for over 30 years is his love for dirt bike riding and racing motocross and performing suspension modifications and revalving. Recognizing the importance of suspension tuning, understanding the theoretical concepts, a willingness to experiment repeatedly, AND possessing an innate seat of the pants 'Butt Dyno' all combined to form Too Tech Racing in 1982. Too Tech had an ad in Cycle News when the only other Suspension tuners advertising were Enzo and Scotts.
Too Tech started suspension revalving for off road and desert riders in the earliest days of the linkage based mono shock suspension. In the early days Too Tech specialized in Honda CR 250 and CR 500 2 stroke's. Early innovations included multiple stage compression and rebound shock valving in both the main valving stage and the compression adjuster circuit itself. It soon became obvious that the factory settings were not refined far enough to offer low shaft speed comfort AND mid speed ride height along with adjustable high speed blow off for square edges. Careful attention to low speed bleed orifices, mid-speed valve stacks and high speed piston feed area combined to provide a feel superior to factory settings. Over time Rick learned the nuances of tuning for different rider speeds and weights. In the mid 1980's Rick was riding local Pro at many So Cal motocross tracks while specializing at Ascot in the 250 and Open MX classes.
Early suspension innovations by Too Tech Suspension would seem basic today, but at the time they were quite novel. All innovation was driven by a specific need for suspension improvement. The first and most basic problem was a very small bodied shock with too little surface area to dissipate the heat created while controlling wheel motion. The hot oil would cause the body to grow faster than the piston ring causing oil to leak around the piston ring instead of traveling through the piston. Too Tech modified the piston ring to allow it to expand farther and match the size of the expanding shock body providing remarkably better high temperature performance and less shock fade. Today CRF 450R, YZF 450, RMZ 450, KX450F, and KTM SXF 450 all use shock bodies with at least twice the surface area of the 1982 CR 250 and 480's. Interestingly only the RMZ 450 and KTM models use specific techniques to minimize oil leakage past the piston ring.
Another huge suspension need became evident when the factories changed to the 'upside down' fork on the Honda CR 250 /500 in 1989. Due to the stiffer fork design, excess high speed compression damping was no longer masked by the flexible nature of the original fork design. This glaring amount of excess high speed compression damping could not be alleviated by mid speed opening adjustments or valve stack changes. Too Tech realized that the compression piston feed holes were simply too small for high speed flow. Due to the inventive AND cost effective nature of Too Tech Suspension, Rick put the piston in his drill press and drilled out the holes to completely solve the problem. With time the size of the hole was specifically tailored to the rider weight and ability. Rick did not charge extra for this critical modification but just considered it just part of the revalving procedure. A very interesting side note is that one of the major suspension companies got their start selling custom pistons with large holes. They incorrectly called these pistons "valves" and charged extra for them. Today many suspension companies manufacture custom and expensive 'valves' (pistons) and charge extra for them. Some pistons have larger holes while other companies offer smaller holes, so clearly the industry can't decide which is ideal. Rick continues to use the stock pistons and drills extra holes when needed for extra flow and restrict flow through other parallel circuits when required. Too Tech Suspension believes if one truly understands how the internal circuits interact together, they can produce great suspension performance using the stock components. (the money you save can be spent on new tires!).
In the early days shock seal life was shorter than expected and the resulting loss of oil quickly drained the shock of enough fluid to provide critical rear suspension damping. Once Too Tech recognized this leaking pattern, Rick researched hydraulics literature and at the end of one journal, almost as a side note, they mentioned how shaft surface finish interacted with the seal design. If the surface is too rough the sharp edged shaft will erode the lip of the seal. If the shaft is too smooth the lip will wipe the shaft completely clean of oil and the seal will run hot due to lack of cooling. Rather than sell the customer a new shaft, Too Tech Racing devised a procedure to roughen the chrome enough to provide better seal lubrication and just considered it part of the oil seal repair procedure. Interestingly Too Tech Suspension also applies the same basic procedure to every fork seal replacement. The improved surface finish not only improves seal life but also reduces stiction which noticeably improves fork performance.
Suspension lowering, particularly in the rear, has become a popular and often essential part of suspension tuning. BUT using a lowering link is not the only answer and in fact will create problems if too long a link is used. Changing the pull rod affects the relationship between the shock shaft position and the wheel position. Originally the factory designed the shaft to hit the shock bottoming bumper before the rear tire hits the fender. As you add longer links (aka pull rods) the wheel/tire is more likely to hit the fender. Too Tech prefers to attach a spacer inside the shock for lowering. This leaves the shock to wheel relationship OEM and alleviates the bottoming issue. And rather than spend 200 dollars for a longer link, you can have your rear shock revalved and the rear lowered slightly for the same price. This minor lowering is essential on the 2009 thru 2011 CRF 450R and some of the other OEM's depending on the model year.
The High Speed shock adjuster is another area of major innovation for Too Tech Suspension. All modern linkage ratio's are close enough that the valving can easilily be set to work for different riding conditions. But the High Speed shock adjuster offers a variable set of challenges between KYB , Sowa , and White Power. Some OEM's use a stiff Hi Speed Spring and others use a soft spring. Some use large piston feed holes while others use small feeds. Some allow the spring to be adjusted completely away from the valve stack while others force the spring to remain in contact regardless of the adjuster position. This lack of agreement between OEM's illustrates they are either confused themselves OR are targeting a completely different suspension setting and rider audience. Since the Hi Speed adjusters are valved so differently stock, it is interesting that most suspension companies do not even remove the adjuster, never mind modify them to work consistently between different manufacturers! Too Tech is the only company that Rick is aware of that adjusts and records when the High Speed valving spring contacts the stack AND standardizes on spring stiffness and piston feed hole sizing. This attention to detail allows Too Tech Racing to set this critical adjuster in the same position and know exactly how the adjuster will respond regardless of which make and model Too Tech works on.
KTM SX 450 , SX 350 and SX 250 with Bladder Twin Chamber design suspension is also ripe for improvement. All KTM White Power Suspension suffers from Hi Speed Shock adjuster lack of adjustment range. The Shock Adjuster fixes discussed above are successfully applied to both SX models and EXC models which lack the link. The White Power bladder fork offers significant challenges. It is both stiff and bottoms too easily. KTM has tried to mask this problem with overly stiff fork springs in later models. Too Tech believes the core problem is the ratio of inner rod area to mid speed area inside the fork cartridge. Since this realistically cant be changed, particular attention is placed on building a progressive mid speed stack since the low speed and mid speed pistons are not easily modified. This fork requires a different overall valving strategy but works incredibly well when set up correctly.
The KTM & Husky MX 4CS Fork is almost horrible as delivered. The High Speed spike is one of the worst Too Tech has ever experienced. The design uses piston and rod sizes not seen since the 80's Showa forks. The small components leave no room for valving error. The shaft flow is so small they chose to use the mid speed circuit for the damping adjuster. Through careful and continuous testing, Too Tech developed a range of settings that satisfy a wide range of riders from 250 2 strokes to 450 4 strokes. (And half of our jobs come form riders who have spent far more money on aftermarket components that did not solve the mid/high speed spike problems!)
The air fork RAGE is creating another major challenge for suspension revalving. Testing at Too Tech finds the Showa PS1 (CRF450 & KX450 2013-2014) stock suspension unwilling to follow the terrain in high frequency bumps (stutter bumps). For super cross, hard pack smooth tracks, this flaw is not evident as all of the obstacles are low/mid speed and the less suspension movement the better. Anyone can valve for this. The flaws become obvious on a natural terrain track where most riders want the suspension to move in the rough and blow off on the square edges. It is Rick's assessment that seal stiction, caused by the high internal fork pressure pushing the seal lip against the chrome tube, is the major culprit and that there may never be a perfect solution. But having a full understanding of the problem allows Too Tech to do the best that can be done with these forks. Without giving away too many secrets, the best solution is to minimize damping during the period of maximum stiction. Both bikes do benefit from further reducing damping during stiction and of course better shaft preparation discussed under seal life. Rick believes his PSF1 air fork mods make the forks similar to the 2012 CRF 450R forks. Honestly the PS2 Air fork is not as good due to the internal design.
I hope you enjoyed the history of Too Tech Racing and the special challenges and successes we've had over the last 30 years. Send this link to a friend to help spread some insights into dirt bike suspension tuning for anything ranging from super cross and outdoor tracks to dessert riding and single trail specialists - the concepts are the same!
THANKS FOR VISITING
TEST 123